For those that haven't heard of Jocelyn Wildenstein (see Cat Woman plastic surgery) is quite possibly one of the scariest plastic surgery celebrities ever to grace the tabloids.
She's been called "The Cat Woman" and "The Bride of Wildenstein," as well as a number of other names, but the real story about her is that she married a wealthy man and when that marriage ended she found herself quite well endowed, financially. And in an effort to maintain her confidence in herself, she began to undergo plastic surgery procedures.
Though she started out beautiful, the Jocelyn Wildenstein that we see today is not recognizable as the woman she used to be at all.
No one knows how many plastic surgeries she's undergone, but there are many that say she's been attempting (with the degree of success being something left entirely in the eye of the beholder) to look more like the big cats that she favored during her time staying in Africa.
Between facelifts (see natural alternatives to facelifts) and eye-surgeries, rhinoplasty and lip surgeries, Wildenstein has spent over $4 million dollars on plastic surgery alone. And at this point no one can say for sure if this is a stopping point, or if this is going to continue indefinitely.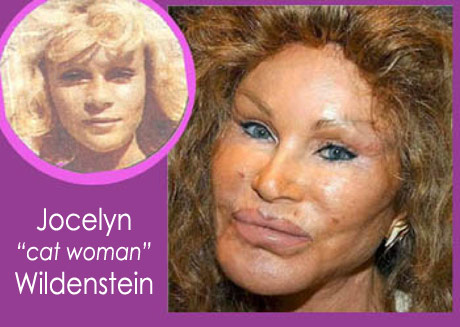 Now in her 60s all of Wildenstein's plastic surgery hasn't stopped her from making public appearances or even going out with male company. She still goes to restaurants, and lives her life in the way she sees fit.
This is what first made her and her husband, famous art dealer Alec Wildenstein, infamous; spending money on whatever took their fancy in amounts that would choke the economies of a small country.
Some estimates, according to Plastic Surgery Before and After, put the couple's spending at up to a million dollars a month. By that estimate, the Cat Woman has really reeled in her financial endeavors.