Did Erica Durance Get Cosmetic Surgery?
Erica Durance has thousands of fans around the world but the debate about Erica's plastic surgery will not go away.
Born on June 21, 1978, Canadian actress and celebrity Erica Durance is famous for her role as Lois Lane in Smallville.
She has also been on many other shows including House of the Dead, Chris Isaak Show and Andromeda.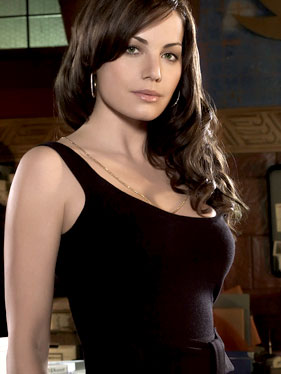 Just this year she was cast in a modern version of Charlie's Angels.  She is one of the most beautiful actresses around with her flowing blond hair, flashing eyes, and bright smile.
Has Erica Durance Been Enhanced?
But her beauty has also been the cause of much speculation.
As with so many female celebrities in recent days, Erica has been the subject of numerous rumors about having had plastic surgery. For instance, it has been suggested she has had breast implants; a photograph of her and others both known or rumored to have had this operation may be seen on the internet.
Other operations that Erica is rumored to have had performed on her include rhinoplasty (a nose job — more than one person have commented that it looks like she had a bad one), liposuction, and improvements on her eyes, jaws, and lips.
Plastic Surgery – What Erica Durance Actually Says…
Erica herself, however, denies all of this.
She has even stated in an exclusive interview for Buddy TV in 2007 that she dislikes the very idea of going into celebrity plastic surgery:
"These folks don't know me too well to think that I've done rhinoplasty and all those things. Besides the fact that I don't like the idea of being in surgery and going under, I have these freakish ideas that you'd be awake during surgery and it totally freaks me out."
Apparently, her breasts look larger as a result of weight lifting — specifically, bench pressing.
Certainly it is known that she does aerobic workouts on her treadmill and yoga exercises, but can working out with weights really make the female breasts get larger?
And she engages in many healthy forms of recreation, including kayaking, jogging, kick-boxing, snowboarding, and surfing.
She also eats a great deal of broccoli and other foods that are high in protein and low in carbs.
Anyone who looks at pictures of her taken between appearances in House of the Dead and Smallville will notice changes that are clearly the result of weight training.
Erica described how, when you are a celebrity, people who do not know you too well often make unwarranted assumptions (see also Hilary Duff).
They may take casual looks at different photographs and then jump to the conclusion that something unnatural has been done.
As to the idea of a nose job, concealer can make that part of the body look a lot thinner.
There 's no real proof Erica ever had cosmetic surgery. As the photo to the left shows, she doesn't really need it either.
The real reason this kind of media hype starts is because of the impression that a woman's beauty as she ages decreases and needs to be artificially revamped.
Also, the way a person looks in a photograph depends on how the picture was taken:  the lighting, viewing angle amongst other things (see also Christina Aguilera).
Many of her fans simply do not care whether Erica Durance's surgery has happened or not— they simply love her and admire her great beauty and talent.
Erica Durance – Before & After Pictures…?
Take a few minutes to look at some of the many celebrity pictures of Erica below and decide for yourself whether she has indeed gone under the knife and had plastic surgery.
[flickr-gallery mode="search" text="Erica Durance" sort="relevance"]