The Heidi Montag cosmetic surgery rumors have been confirmed and they're worse than most fans would ever hope for them to be.
Montag, who is known best for her starring role on the MTV reality series The Hills is a TV personality and singer that was born in 1986.
Extremely young for plastic surgery, even by the Hollywood standards, Montag first achieved her celebrity in the year 2006, but she appeared on other shows and productions till 2010, beginning work on her debut album in 2009.
It was also in the year 2009 that Montag began the process that would turn her into a plastic surgery celebrity, and all for the wrong reasons as the personality herself would later admit to quite freely once she recovered and realized she'd have to live with her bad plastic surgery decisions.
Heidi Montag's Cosmetic Surgery Gone Wrong
Montag's case is somewhat unique among celebrity plastic surgery stories.
Unlike Jennifer Lopez' rumors, Audrina Patridge or the Nikki Cox surgery gossip that still fills tabloid pages, Montag has fully admitted to the public, several times in fact, that she's gone under the knife.
Heidi's Plastic Surgery: Her Frank Chat With Mom
Before we carry on, this video contains audio footage of Heidi talking to her mother about her various plastic surgeries.  It's quiet clear what her Mom's view is.
And not only once, but no less than 10 different times for 10 separate plastic surgery procedures to alter different parts of herself, which turns speculation into something much more concrete.
And not only has she verbally admitted that she's had cosmetic procedures done, but Heidi took it a step further.
Heidi Bares All To 'Life & Style Magazine'
It was in 2010, roughly one year after her plastic surgery debacle had drawn to a close and she'd recovered as fully as she could, that Heidi Montag gave an interview to and underwent a photo shoot with Life & Style Magazine.
In the interview Montag revealed that in November 2009 she underwent all 10 procedures, many of which left her with horrible results and even worse scars as testament to her surgical decisions and pursuit of perfection.
Some Less Desirable Results
As a result of these procedures Montag was left with a slew of reminders of her poor decision, including:
a 2 inch long raised scar beneath her chin from

a botched chin reduction

attempt
two caterpillar sized bald spots from

a face lift

just above her hair line
round surgical scars on her lower back and thighs from poorly executed

liposuctions

horrid, jagged slash marks behind her

ears from having them pinned back

and a number of other unpleasant and unsightly results such as uneven and

scarred breasts

resulted from the poor attempts at further cosmetic improvement.
"Parts of my body definitely look worse than they did pre-surgery," Montag told Life & Style in the first really candid interview she underwent specifically about her procedure and the results of it.
"This is not what I signed up for." Montag also added.
Commenting on the sheer quantity of the poor results she'd gotten:
"People have fewer scars from car accidents than I have on my body."
But it seems that Heidi still doesn't need much convincing that she might need even more surgery.
Why Did Heidi Get Surgery?
According to Montag's interview with Life & Style Magazine the young and rising star was seeking perfection, and she decided she needed to get cosmetic surgery done on her already attractive physique in order to achieve it.
Given that some of Hollywood's greatest and most iconic bodies and faces, including that of the famed starlet Marilyn Monroe, were created with the aid of a plastic surgeon's scalpel it's no wonder that the idea that you need plastic surgery to be beautiful and famous in tinsel town has managed to survive in the halls of the Hollywood elite.
And Montag clearly fell prey to the pressure to be perfect, even at such a young age when her body was still firm, fit and changing naturally.
Surgery That Had The Opposite Effect
The ironic part of going through so much surgery, and in doing so much of it so close together, was that rather than eliminating Montag's flaws it actually back-fired and had the exact opposite effect that Montag had been hoping it would have.
In her own words about the results of her surgeries:
"I would love to not be 'plastic girl,' or whatever they call me. Surgery ruined my career and my personal life and just brought a lot of negativity into my world. I wish I could jump into a time machine and take it all back. Instead I'm always going to feel like Edward Scissorhands."
Powerful words, and heartfelt ones from someone that was transformed so horribly by a doctor that was supposed to make her more beautiful.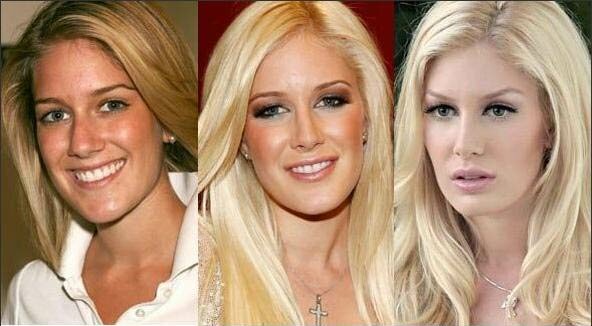 Nightmares
According to the interview the whole process was a horrible endeavor for Montag, and possibly the worst decisions she'd ever made.
In the personality's interview she said that she would have nightmares about her face, and explained how her husband had to help her with her clothes just so that she could do something as simple as going to the bathroom.
Endeavors that were once simple and every day had taken on a whole new difficulty as she recovered, or at least attempted to recover, from the surgeries.
And the surgeon who performed all of these procedures, Dr. Frank Ryan, died in a text-related car crash not long after he'd finished up Montag's biological overhaul.
All in all it would be hard to imagine this endeavor going more wrong than it did, or things happening in a worse way than they did in the case of Heidi Montag.
Heidi Battles On: Writes Memoirs
Despite the surgeries that nearly killed her, and which left her with the remnants for the rest of her life, Montag is still working.
Since her surgeries she's had roles in a variety of television programs such as the VH1 reality show "I'm a Celebrity- Get Me Out of Here!"
It was announced in October 2011 that Montag was planning on writing a memoir of her life and times as a celebrity and the experiences that she underwent.
Whether it was meant to be a cautionary tale, or if such would be included in Montag's book, the TV personality didn't say.
Whatever the outcome of her book, there is no doubt that anyone considering the surgeon's knife purely for cosmetic purposes should seriously read about Heidi Montag's cosmetic surgery before doing so.