Has Kathie Lee Gifford Had Cosmetic Surgery?
That's the question that fans of Kathy Lee Gifford have asked as rumors abound over the last few years.
Kathie Lee Gifford was born on August 16, 1953 and is an American television host, singer, songwriter and actress, best known for her 15-year run (1985–2000) on the talk show Live that she hosted with Regis Philbin.
She has received 11 Daytime Emmy nominations and won her first Daytime Emmy in 2010 as part of The Today Show team, but is she another TV personality who has had celebrity plastic surgery?
Kathie Lee Gifford Admit Cosmetic Procedures But Not Facelift
Rumors have circulated that she had Botox, rhinoplasty, cheek augmentation and a face lift.
After years of speculation the truth has come out. Kathie Lee admits to having celebrity plastic surgery (see Jennifer Aniston's cosmetic surgery).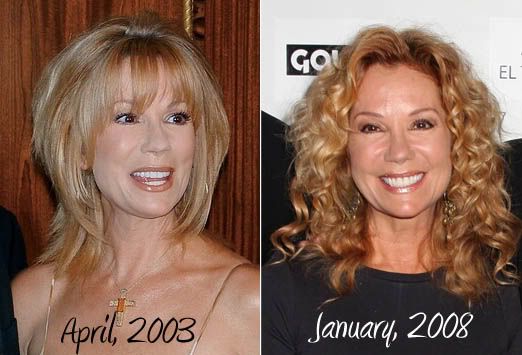 The National Inquirer got information from Gifford's publishing company about the 2009 tell-all she worked on.
In the book entitled "When I Thought I'd Dropped My Last Egg: Life and Other Calamities" she admitted to "undergoing cosmetic procedures — including Botox and laser treatments."
What she denies having done is a face-lift. Her reason for not taking on the procedure is "fear of a botched job."
A year later, rumblings of plastic surgery came back full force. Rosie O'Donnell accused Kathie Lee of having plastic surgery on her then Sirius XM radio show.
She fired back saying that her face is "surgery free and I can prove it." A month after this challenge Gifford was bare-faced live on the Today show (see Teri Hatcher plastic surgery). She did the one hour show without makeup.
Gifford even dared Rosie to "look for scars, baby" on television. The show was in HD and the only thing she admitted to wearing was lip balm.
After admitting she was wrong, O'Donnell later apologized to her on her talkshow saying "I thought you looked good, but I just thought you looked different." Gifford admits to feeling vindicated.
So the facelift fear of awful plastic surgery remains. Kathie Lee Gifford is a real woman who is not afraid to admit what is going on and will go to lengths to prove her point.
This opinionated lady is indeed an open book. While she doesn't admit why she got plastic surgery in the first place, if there is any more work done on her face she will tell the world about it.
Kathie Lee  – Before & After
Looking at the photos indicate some plastic surgery because her face looks somewhat 'stiffer' than before.
But not only was she brave to admit it, she was brave to show what she didn't have it live on TV. Are these photos an indication of celebrity plastic surgery gone wrong?
Either way she tries to age with grace and regardless of her efforts fans will still debate on Kathie Lee Gifford's cosmetic surgery.