Did Kris Jenner Really Have A Facelift?
That's the question many people were asking when she was seen at her daughter's wedding in August of 2011. She appeared to be more awake and happy than she looked in previous months.
The media has been speculating about her plastic surgery, but no one knew for sure, at least not until she openly admitted, and filmed her surgical procedure for all to see.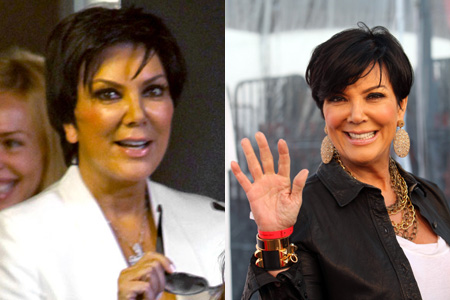 Kris Jenner was born Kristen Mary Houghton on November 5, 1955 in California. She is the ex-wife of OJ Simpson defense attorney Robert Kardashian and the current wife of Bruce Jenner. Kris is not known for her husband, although he is a Gold medal Olympian.
Kris Jenner is best known for her celebrity daughters, Khloe, Kim (see Kim K plastic surgery) and Kourtney Kardashian (see Kourtney Kardashian).
Kris manages her daughters, and is known as their "momager." Kris is also the owner and co-operator of the children's clothing store, Smooch. Kris is also the event planner for her husband, Bruce Jenner.
With all of this public attention, it only makes sense that she opt for some sort of plastic surgery.Kris also has three other children, son Robert Kardashian, Jr. and daughters Kendall and Kylie with her current husband.
Kris recently released a book in which she details her relationship with OJ Simpson's former wife, Nicole. Another claim to fame Kris has is a fitness video she did in 1994.
Did Kris Jenner Have Plastic Surgery or Facelift?
For the last several months, the media has been speculating about this topic. Did she or didn't she? Did she really need it? She's 55 and looks great! It has been rumored that Kris has had a nose job in the past, although these allegations have never been proven.
However, she did admit recently on the television show, 'Extra,' that she did have a cosmetic procedure earlier this year in order to "freshen up" for daughter Kim's wedding in August.
In keeping with true Kardashian style, Kris actually allowed the cameras from Keeping up with the Kardashians reality show to follow her through parts of the surgical procedure, including before and in the recovery room.
Kris Jenner Talks About New Facelift
The whole world can view what Kris looked like before and after her procedure. Kris's procedure, commonly referred to as a mini-facelift, did not produce dramatic results as seen with other celebrity plastic surgery before and after photos, and that's what Kris was aiming for.
In fact, Jenner admitted during her Extra interview that "it pretty much is the same. I didn't have anything done to my eyes, nose or mouth. Nobody notices the difference. I'm waiting for someone to say something." Well Kris, you must not read the news because people are saying things!
Kris Jenner Before & After?
Kris admittedly said she doesn't look that different, and she doesn't.
She claims she only had a mini-face lift where they worked on her neck and the area around her eyes. Other than the slight scar on her neck, there is no major difference in her before and after pictures.
Mini- face lifts are often referred to as "weekend face lifts" because the healing time is less and the procedure itself focuses on specific areas rather than on the face as a whole.
In Kris's case, she focused on her neck and crow's feet. The mini-face lift requires less anesthesia, uses smaller incisions and has a significantly shorter healing time. Additionally, this procedure costs less. This procedure is so quick and easy, there could easily have been more celebrity plastic surgery that no one is aware of.
Kris Jenner looks great for her age, regardless of whether she has had a nip here or tuck there. She's a very busy woman and deserves to treat herself once in a while. Many celebrities partake in plastic surgery procedures. These Kris Jenner plastic surgery rumors are definitely true.
So we know Kris did actually have some surgery.
What do you think though?  Was it worth it?