Thousands of fans worldwide are asking whether Shannon Tweed has gone under the surgeon's knife.
Former Pl*ym*te of the Year and recently new wife of Kiss front man Gene Simmons is no virgin to plastic surgery. Actually, both Gene Simmons and Shannon Tweed are not new to the occasional nip and tuck.
A look at Shannon Tweed's pictures from her adult magazine days and comparing it to her current pictures with Gene Simmons side by side reveals all.
The usual tell tale of plastic surgery, which is the difference in the eyes, shows with Shannon and Gene. Shannon's face reveals more sunken eyes than when she was young, a usual effect of facelifts.
The long time girlfriend of Simmons, who just recently got married to the rock star, was born on 10th March, 1957. Her plastic surgery can definitely be noticed if compared to her adult magazine pictures, but despite some criticism of her facelift making her look like she has a forced smile, the facelift isn't as bad as other celebrity plastic surgery operations.
And unlike other celebrities who sometimes deny bad plastic surgery being done, like the questionable butt job of Jennifer Lopez, Shannon Tweed is not afraid to show it.
Shannon Tweed: Televised Surgery in 2004
In fact, Shannon Tweed and Gene Simmons actually televised their matching plastic surgeries on their show Family Jewels back in 2004.
When interviewed about plastic surgery, Simmons replied, "I'd thought about it before,". Simmons went on to say "I was aware I had jowls."
It seemed like it was Tweed's idea for Gene Simmons to get plastic surgery, adding that Simmons was "like Jabba the Hutt!"
After convincing Simmons of the operation, however, the 1982 Playmate of the Year mentioned that she needed it too. "I didn't want him to look younger than me," Tweed says.
After 24 years of being together and having kids, Shannon Tweed and Gene Simmons got new faces together.
The Tweed Sisters Get a Makeover From Dr Frank Ryan
Shannon & Gene Before & After Surgery?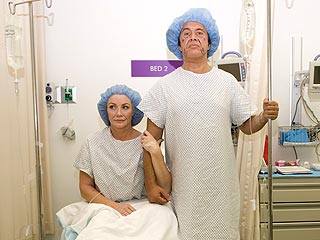 This his and hers couple plastic surgery operation is becoming a trend in Hollywood but not many are recording the experience like Tweed and Simmons.
In their special case, the whole experience was recorded, from pre-operation through the post-operative moments, everything was made public and aired on their A&E reality show.
TV crews recorded the whole process as if it was the birth of a baby and was aired on their show. After their initial plastic surgery, though, Shannon Tweed wasn't happy about the way her plastic surgery was done.
What happened after that was a series of corrective plastic surgeries in order to make her look the way she wanted.
Although the plastic surgery wasn't a poorly done one, it was clear that Shannon Tweed looked better before the surgery than after it. Was this a plastic surgery gone bad?
Even with the follow up procedures, Shannon Tweed looked so much better without plastic surgery than with it. Although it was not a plastic surgery gone wrong, it could have been avoided.
Unlike Jennifer Aniston rumored plastic surgery nose job, Shannon Tweed's surgery was neither low profile or subtle.
Although it was definitely better compared to the Carrot Top's foray into the world of plastic surgery.
Critics claim that Tweed looked younger but as if the joker gave her a dose of laughing gas. Although this may be an exaggeration on the part of critics, it is clearly obvious that this is an example of unnecessary plastic surgery on a celebrity. It's as simple as that. Shannon Tweed's plastic surgery was unnecessary.